To meet DCAA and FAR requirements, a company must have a compliant accounting system. To accomplish this, there must be many pieces to the system (all of which form the "pillars" of the compliant system as a whole). Think of this as a planet (the general ledger system), with many orbiting satellites (see Figure 1). All of these satellites must work in unison to be compliant.
Some systems, like JAMIS or PVBS, are designed to meet all these requirements within one software package (but they are generally meant for much larger companies and are cost prohibitive for most small businesses). QuickBooks®, on the other hand (as well as many other accounting software programs), is much more affordable and familiar to most small businesses. Unfortunately, it is not designed to meet all of these requirements (it is really only the general ledger system). As a result, other systems must be set up and integrate not only with the general ledger system, but often with each other.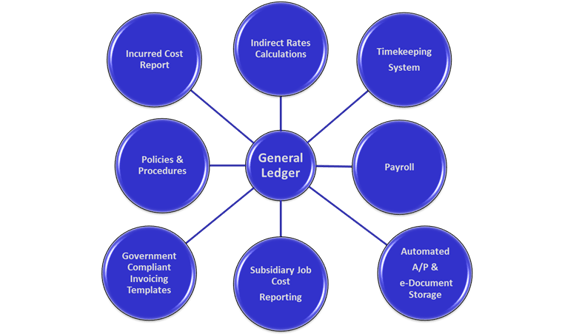 Figure 1: Accounting System Structure for DCAA compliant System
QuickBooks and DCAA Compliance
While ReliAscent's experts can install an out-of-the-box DCAA compliant accounting system (like PVBS, JAMIS, Procas, or ERP-Gov), most small business contractors cannot afford these expensive systems. For more "budget-conscious" businesses, we can make your QuickBooks® DCAA compliant, and then operate your system for you (outsource your compliant accounting); usually at a far more affordable rate than hiring a full time accountant or accounting staff.
To learn more about what software might be best for your company, visit the ReliAscent Software page. Which option makes more sense for your small business, depends on factors like your number of contracts, employees, sales, and your budget.
For most small businesses, in order to have a fully DCAA compliant accounting system, ReliAscent® recommends using the PC-based QuickBooks® desktop version as the core of the accounting system (QuickBooks® Online and QuickBooks® for MAC lack some key features for a compliant system). To be compliant, it is critical that your QuickBooks®,or other "non-compliant" accounting software, be modified to enter direct and indirect costs, as well as a number of other features (see below).
Setting Up A DCAA Compliant QuickBooks Accounting System:
Depending on your circumstances, the process of setting up your accounting system will either involve a conversion of your existing QuickBooks accounting system, or an installation of a new, compliant system (generally only used for start-ups and relatively young businesses).
The steps involved for each of the different scenarios, as well as the costs and expected turnaround time, can vary slightly depending on a number of factors:
Once our experts have a better sense of your "road map to DCAA compliance," we can provide your small business with a quote and expected lead time for bringing your system into compliance, or installing your new system. As we've discussed, the steps involved can differ depending on your specific circumstances, but the following is a rough order of tasks in order to get a system up and running:
Once your system is brought into compliance, you will need to determine who handles daily journal entries, monthly closes, DCAA ICE submissions, calculation of indirect rates, and other critical functions of the system.