ReliAscent is proud to announce the release of our latest white paper, written by ReliAscent Co-owner, and industry recognized government contract expert, Russ Farmer. This white paper is the first in a 6-part series that focuses on Federal Government Contract Management, and how the important role of a Government Contract Manager (CM), helps a business to stay profitable, efficient, avoid risk, and even avoid legal trouble with the Federal Government.
In Part I, Russ discusses how a CM helps contractors and grantees to review an RFP; from ensuring the protection of contractor IP, to financial and performance risk review, avoidance and mitigation, and a complete review of terms and conditions and relevant FAR clauses and other compliance issues. Each step is important when reviewing an RFP, and deciding how to best respond.
To get your copy of "Government Contract Management Part I - The RFP Review," click here now!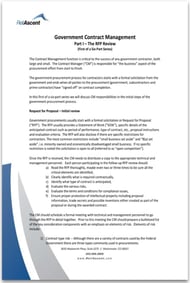 We hope you find this white paper helpful, and be on the lookout for the next installment coming in December: "Government Contract Management Part II - Proposal Participation."
If you would like to learn more about ReliAscent's Government Contract Management and Administration services--from contract reviews, to negotiations, subcontracts, closeouts and terminations--visit our website, or call us today!