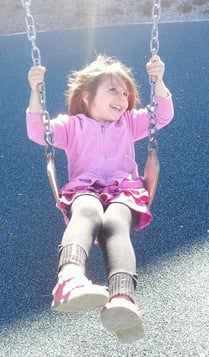 I chose this picture of my daughter, Sienna, because it reminds me to not take life so seriously. She has the best attitude and spirit that I have encountered and can turn any situation into a positive one- using her creativity and imagination. Her giggle is infectious and her kindness overwhelming. I am proud of how far she has come as a small child, and I can't wait to watch her grow. My life changed when she entered it, and she continues to be the biggest part of it. Sienna is important to me because she taught me so much about responsibility, and yet is the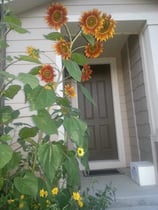 one who reminds me to not grow up too quickly.
My favorite flower is the sunflower. These are some of the ones I grow in front of my house every year, they grow taller than I am and have flower heads larger than a dinner plate. They are miraculous plants and always make me smile when I see them. Also- interesting fact is that sunflowers absorb radiation from your soil! Sunflowers also turn towards the sun and follow it through the sky, which to me represents hope for tomorrow.
One of the best parts of living in Colorado are the mountains. A big part of who I am is being outside and enjoying nature. I snowboard when I can, and took this picture winter 2015 at Keystone Mountain. When I snowboard I forget that I am an adult, become elated, and get scared. I am still a beginner so sometimes when I feel out of control I get worried. This is a nice reminder that I still have room for improvement, and it's something I have been working on for the last several years. I enjoy the challenge, excitement, and the views.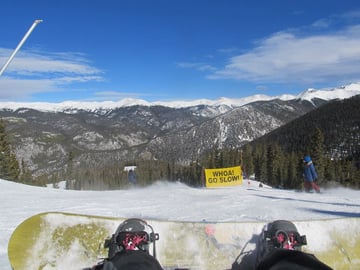 I adopted Mocha in 2011 from Rocky Mountain Puppy Rescue. She has been an amazing companion and a really great friend. Without this beauty I wouldn't be greeted by howls and wet kisses every day. She is very protective over Sienna and myself, and is always by our side. To be loved by a dog, is an experience I am glad to know –I couldn't be happier with her.