Setting up the DCAA Compliant Accounting System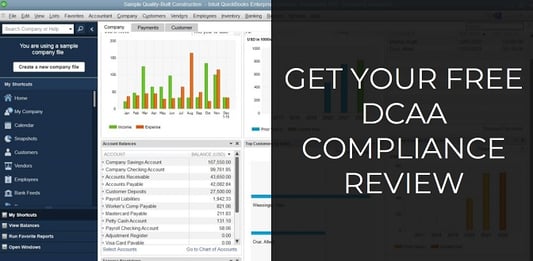 For government contractors and grantees with a Ph II SBIR/STTR contract or grant, or any business needing a DCAA compliant system, our experts bring your existing accounting system into compliance by migrating it to our cloud-hosted, QuickBooks Enterprise system, hosted on Amazon's GovCloud. This process generally takes 2 weeks, and costs can range from as little as $1,000 to as much as $6,000, depending on the state of your books, current number of contracts/grants, when we are backdating the books to, and other factors.
To learn more about installing and converting accounting systems, visit our DCAA Compliant Accounting Systems page. We also highly recommend you take advantage of our Free QuickBooks® DCAA Compliance Review, if you are unsure if your current QuickBooks® (or other accounting system/software) is compliant.
ReliAscent® then offers two options to companies depending on their size and whether or not they have an accountant or bookkeeper on staff (and if that person or department has any familiarity with government contract accounting).
Outsourced Monthly DCAA Compliant Accounting (You Do Your Own Bookkeeping)*
For larger companies that already have an accounting staff, our experts can train your current accountant or bookkeeper to perform the basic bookkeeping functions (they can also continue to run payroll and handle some other functions). This process can take 6 - 9 months in most cases, and involves reviewing the books, cleaning up any erroneous journal entries, discussing errors and solutions.
In turn, ReliAscent® provides the following top level accounting services:
Monthly close
Month end meeting and strategy session with Account Executive
Indirect Rates calculations and management
Job cost reports
All required financial reporting
Completes and submits the annual Incurred Cost Proposal (ICE Submission), as required
Provides DCAA audit support
*This option is only available to larger companies that have a complete accounting department, and is not offered to very small businesses. If your business is using a part time or third party accountant or bookkeeper, or you, the owner or CEO, are doing the accounting yourself, this option is not available. It will not save you any money vs simply outsourcing your complete bookkeeping, accounting, payroll, and invoicing to ReliAscent

®

. And, let's be honest: you have more important things to do and your time is better spent focusing on higher ROI activities.


Complete Outsourced DCAA Bookkeeping and Accounting Services
For smaller businesses and companies that do not have an accounting team (or who simply wish to reduce their overhead and outsource their entire accounting department to ReliAscent®), we can operate the system on a virtual, outsourced basis. Outsourcing compliant accounting not only allows the business to focus on what it does best (and relieve the stress, cost, and extra effort of staying compliant with government regulations), but it actually saves small businesses (potentially) thousands of dollars each month. The choice is up to you: whatever you feel comfortable with and makes the most sense given your budget and needs.
In addition to the accounting tasks listed above, this means ReliAscent's experts can take care of:
Daily bookkeeping
Invoicing the Government Agency or WAWF
AR/AP
Assist in collecting timecards
Payroll
and more...
To learn more about how much outsourced DCAA/FAR compliant accounting costs vs hiring an in-house accountant with a government contract accounting background, or attempting to maintain compliance on your own (while also trying to perform your direct contract work), read ReliAscent's popular blog: "After COVID, Can You Afford NOT to Outsource DCAA Compliant Accounting?"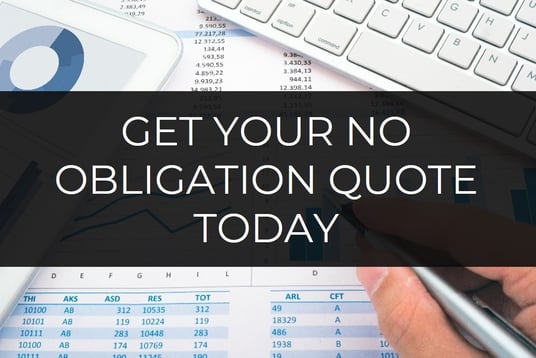 What Level of Service Does My Company Need?
It's important to understand that the level and type of services your business requires varies depending on many factors. These include:
Your Contracting Agency (for example, grantees working with the NSF or HHS may only need a simple Compliance Support level of services, while those contracting with the DoD or NASA, face stricter requirements and often outsource their accounting to mitigate risk and cut costs),
The number and type of contracts/grants you have,
Your current accounting department/staff (if any), and their expertise in the complexities of US Government compliant accounting systems and requirements.
Given these factors, choosing the ideal services package that best fits your business is critical; and we are happy to help you identify the gaps in your compliance (both in your accounting system and the day-to-day accounting), help your business get on track, and focus on what you do best.
What Does Outsourced DCAA Compliant Accounting Cost?
The price a small business pays will vary based on the scope of work and the number of contracts & grants. In general, most start-ups with only a single Ph II SBIR/STTR award (or comparable contract or grant), may only pay as little as $1,500/month (after their system is brought into compliance), for complete outsourced accounting (bookkeeping, accounting, financial reporting, payroll, invoicing the awarding agency). However, as the number of contracts and grants increases (as does the level of work required), this monthly cost can increase, and most established companies (~$2M - $15M in annual revenue and/or multiple SBIR contracts and grants at one time), will typically pay between $2,000 - $3,500+ per month for complete outsourced accounting. Fixed Monthly Pricing is available in most cases, though it may take several months to establish your rate. Contact ReliAscent® for more accurate pricing and a formal proposal based on your company's needs.
Remember: all monthly accounting costs are recoverable through your indirect rates, and our experts not only calculate your rates, but help you to strategically manage them to help your business stay competitive and profitable.