DCAA Compliant Accounting Systems
Does The DCAA Approve My Accounting System?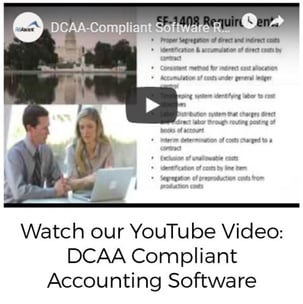 Small Businesses competing for cost type (and many T&M) contracts from the Department of Defense, NASA, the Department of Homeland Security, and other agencies, must have an accounting system that is compliant with the Federal Acquisition Regulation (FAR), and the Defense Contract Audit Agency (DCAA). The DCAA is the Federal Government's auditor, tasked with reviewing a contractor's compliance with FAR regulations and other requirements. In addition to audits and compliance checks, they provide general guidance to contractors to help them better understand how to work with the government.
Many small businesses are confused when first entering the government contracting world, and often ask, "how do I get the DCAA to approve my system?" Perhaps one of the most important concepts to understand is that the term "DCAA approved accounting system" is a misnomer. There is, in fact, no such thing as an "approved" system, nor does DCAA certify your system. There are merely accounting systems that are compliant with FAR & DCAA requirements and compliant software that is designed to pass the accounting system audit.
DCAA Accounting System Requirements
A compliant accounting system must have the following features/meet the following conditions:
The Accounting system must be set up and maintained in accordance with Generally Accepted Accounting Principles (GAAP).
The system must properly segregate direct and indirect costs.
Costs must be accumulated by cost element and by project. For every direct cost transaction, a job or project number must be assigned.
Accumulation of all costs must be under the general ledger control.
Direct and indirect costs must be reconciled monthly in the general ledger.
The system has a compliant timekeeping system that identifies employee labor by cost objective.
A compliant labor distribution system that charges direct and indirect labor to appropriate cost objectives.
The system must provide a monthly determination and recording of costs.
Exclusion and tracking of unallowable costs.
Identification of costs by CLIN (contract line item).
Segregation of pre-contract/award costs from contract costs.
The system provides the necessary financial information to demonstrate compliance with the Limitation of Funds clause and to support progress payments.
To learn more about each of these requirements, download our helpful white paper: "A Quick Guide to the DCAA Compliant Accounting System - Understanding the SF1408," now.
At ReliAscent®, we handle the setup process (installation, migration, or conversion), for you. While our experts can help contractors and grantees set up a compliant system, which solution you ultimately choose may be based upon your personal preferences, your level of government contract accounting experience, and what types of contracts or grants you have. In general, clients have 3 options:
Cloud-Hosted QuickBooks® System
Our most popular option is to set up a new system on—or migrate your existing accounting system to— ReliAscent's DCAA Compliant QuickBooks® Enterprise System (hosted on Amazon's GovCloud™). Once the setup is complete, clients can choose to outsource their monthly accounting to ReliAscent® , or perform the bookkeeping in-house, and leave monthly closes, ICE Submissions, and DCAA Audit support to our experts (this is only recommended for companies with previous DCAA accounting experience). To learn more about our outsourced government contract accounting services, visit our DCAA Accounting & Bookkeeping Services page.
Setting up the System on your own Servers
If your business has an existing accounting system, and you would like to keep it hosted locally, ReliAscent can properly format the general ledger and set up the appropriate supporting systems to meet DCAA and FAR requirements (ReliAscent® recommends small businesses use the desktop version of QuickBooks®, as it is the most user-friendly and affordable system, and does not lack many critical components required for compliance, like the Online version). This option is generally only recommended for larger companies with previous government contract accounting and FAR / DCAA compliance experience.
Accounting for SBIR/STTR Ph I Awardees
If a small business only has a single Ph I SBIR, or a contract or grant through an Agency like the NSF, NIH, or DoE (which may not require a DCAA compliant system), ReliAscent offers our Ph I Foundation Packages™. The package consists of an accounting manual, timekeeping procedure, example timecard, and a QuickBooks® Desktop General Ledger & Chart of Accounts template (compliant with awarding agency requirements). Once the installed, the business has a system which is compliant with the agency and FAR requirements, and which serves as a "foundation" for the required system needed in an SBIR Ph II, or when a fully DCAA compliant system is required for any other reason. This system can then be more smoothly migrated to our cloud-based system when needed.
Bringing Your System into Compliance

Bringing your accounting system into compliance requires adding several components to the general ledger and system as a whole. These can be found in the Federal Government's Standard Form 1408 (mentioned above), and they comprise the "pillars" or "foundations" of the system. Think of this as a planetary system, in which your QuickBooks® general ledger (the planet), is properly formatted, and then "satellite" systems—from your compliant timekeeping system to job cost reporting, invoicing methods, rates calculations, policies & procedures, and even how you run payroll—are all interconnected.
Though some systems and software may be more expensive than others, it is important to understand that the cost of setting up and operating a compliant accounting system is recoverable from the government as part of the contractors indirect billing rates.
Just as there are different types and sizes of contractors, each small business has their own unique circumstances. As a result, the process of setting up your accounting system will either involve a conversion of your existing accounting system, or an installation of a new, (typically QuickBooks-based) DCAA compliant accounting system (either on your own servers/cloud or ReliAscent's cloud-hosted QuickBooks Enterprise system).
Installation / Conversion Costs and Lead Time
The steps involved for each of the different scenarios, as well as the costs and expected turnaround time, can vary slightly depending on several factors:
Are you backdating to January 1st of the current year, going back even further, or starting on a specific date?
What is the current condition of your accounting system? Are there unresolved issues?
What gaps exist in your accounting system, and how long will it take to address each?
Once ReliAscent® determines your "road map to DCAA compliance," we then provide you with a quote and expected lead time for the system setup/migration.
The steps involved in the installation or migration process can differ depending on your specific circumstances, but the following list is a rough order of tasks that we perform to in order to set up your system:
Install a general ledger program (ReliAscent® recommends a desktop version of QuickBooks®), or bring your current general ledger system into compliance by...
Formatting a company template within the general ledger program to:

Structure a Chart of Accounts (or restructure your COA)
Segregate the direct and indirect expenses
Isolate unallowable expenses
Set up a job cost environment where the direct expenses may be charged to a single final cost objective
Set up the labor distribution system
Insure GAAP compliant accounting

Establish a DCAA compliant timekeeping system (either manual or automated) - we recommend Hour, SpringAhead, GHG/ClockWise or TSheets
Establish a payroll system compliant with government requirements
Establish a method to perform:

Indirect Rate calculations on a regular basis (typically, the government likes these monthly)
Provide for Subsidiary Job Cost Reports in a fashion that the government likes to see

Establish your policies and procedures
Training your employees (timekeeping software, daily journal entries, etc.)
Setting up the system is just the first step. Once the system is brought into compliance, it must remain in compliance throughout the duration of the contract. Unfortunately, DCAA compliant accounting differs substantially from the commercial bookkeeping and accounting that a traditional bookkeeper or CPA is familiar with. Maintaining compliance, and thus, performing critical functions like the monthly close and indirect rates calculations, requires an accountant or firm with extensive experience in government contract accounting.
ReliAscent® is unique in the government contract accounting industry. We offer multiple levels of outsourced accounting services to contractors and grantees—each tailored to their business and compliance needs—in addition to contract management, and business & financial management services (all under one roof). We have over 200 years of collective experience in government accounting, contract & grant management, and business consulting services, and provide a complete "solution," found nowhere else in our industry. At ReliAscent, our goal is not to sell you a software package and let you fend for yourself, or to simply perform the bare minimum required to pass an audit. We want to see you succeed and focus on what you do best, and that takes more than just an accounting firm.