DCAA COMPLIANT TIMEKEEPING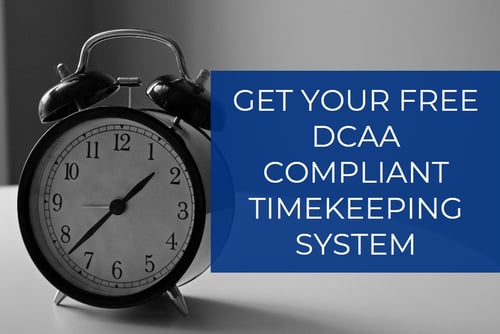 Maintaining DCAA compliance is critical for many DoD, NASA, DHS and even some DoE contractors (and granting agencies like the NSF and NIH even recommend small businesses implement a DCAA compliant timekeeping system), and the number one negative finding in a

DCAA

audit is related to timekeeping and timekeeping procedures. This being the case, proper and accurate timekeeping is a

critical component of a compliant accounting system. DCAA timekeeping requirements are very exacting, tedious, and require meticulously-followed procedures. They also must be regular and performed consistently (which can be new and even bothersome to employees not used to this level of detailed timekeeping).

This is why setting up the timekeeping system and then mapping it back to the general ledger is such an important step in the process of installing a DCAA compliant accounting system. More importantly: because of the very high risk of timekeeping errors leading to failed audits, ReliAscent® recommends--and always provides our clients with--an automated DCAA compliant timekeeping system (rather than a manual system), for any company with more than 4 employees (more on this below).

However, for very small business start-ups on restricted budgets, ReliAscent® provides a DCAA compliant manual timekeeping system at no charge. The manual system uses Excel-based timecards, and comes with a DCAA compliant timekeeping policy template that can be tailored to your business. Click here to download your free system now.

But first, to better understand the timekeeping required of contractors, it's best to examine the procedures involved, timesheet preparation steps, and a summary of DCAA timekeeping policies.
DCAA COMPLIANT TIMEKEEPING PROCEDURES
DCAA's requirements regarding the timekeeping procedures are found in the DCAA Audit Manual No. 76410.90, Enclosure 2, Paragraph 4, section a. Overall, the main procedures call for:
Segregation of Responsibilities for:

Timekeeping and Payroll Accounting
Supervisors Responsible for Meeting Budgets May Not Initiate Employee Time Charges
Small Companies May Need Special Consideration

Clear Cut Procedures must me enacted, and no misunderstandings of what is not

permissible
Controls Continuously Verified Violations Remedied with Prompt Effective Action
Continuous Training to Make Sure Employees Awareness


TIMESHEET PREPARATION
How the employee records their time in the system is critical to the process, and can be a paradigm shift for employees that are not used to recording their time on a daily basis, and breaking down each entry by task and/or contract (cost objective). These timesheet preparation requirements can be found in DCAA Audit Manual (DCAAM) No. 76410.90, Enclosure 2, Paragraph 4, b.
DCAA TIMEKEEPING POLICIES
DCAA's policies on timekeeping can be found in the DCAA Audit Manual (DCAAM) No. 76410.90, Enclosure 2, Paragraph 4, c:
Supervisor must approve and cosign all timesheets

Supervisors are prohibited from completing employee's timesheet unless

The employee is absent for an extended period
The employee is on a paid leave

The type of work determines how time is distributed; not the availability of contract funding or the type of contract.

Accurate filling of the timesheet is each employee's responsibility.
SBIR/STTR PH I & II TIMEKEEPING REQUIREMENTS
It is important to note that while many agencies emphasize the importance of tracking your direct time during your Ph I contract or grant, small businesses should track ALL EMPLOYEE time on ALL TASKS; not just your direct contract or grant work. By tracking all hours worked by each employee (and on which tasks), a small business is better prepared to generate and justify indirect rates for the Ph II proposal, and potentially provide your business with a higher indirect rate than the safe rates or de minimis rates (meaning the government will pay a larger share of your overhead costs).
DCAA TIMEKEEPING RESOURCES
How can you ensure your business is maintaining compliance? What are the key requirements defined by the DCAA? You may find the following documents helpful:
DCAA COMPLIANT TIMEKEEPING SYSTEMS
There are basically two types of compliant timekeeping systems: a manual system or an automated timekeeping system.
While ReliAscent® has a manual system that has been designed per DCAA requirements (which also has an accompanying procedure/manual), we recommend companies with more than 3 employees consider an automated system. However, companies that have adopted the ReliAscent® timekeeping system as their own have been successful in passing multiple audits.
Automated systems are available that can be attached to most typical accounting software packages (such as QuickBooks™). There are quite a few on the market that are designed to meet DCAA requirements, but the price and user-friendliness can vary, and new systems are hitting the market frequently. You may want to call ReliAscent® to investigate these options as we have investigated quite a few of the vendors. We have first hand experience with several of these systems and can help you select a system that best meets your budget and your operational needs. ReliAscent also offers our own automated DCAA compliant timekeeping system: GovComply Copper, which is part of our GovComply™ platform and integrates with our DCAA compliant QuickBooks Enterprise system. To learn more about GovComply Copper and the other packages offered, download our GovComply™ Handout.
TIMEKEEPING SOFTWARE PARTNERS
ReliAscent® partners with some of the industry's top automated DCAA compliant timekeeping systems. The systems we use include:
With Clockwise by GHG, we create custom solutions that make it easy for you to track time and save money. Clockwise is a scalable solution that can grow along with your organization. From large government contracting and DCAA compliance to non-profit organizations, we offer smart solutions for leave management, time and attendance, payroll integration, and more. Our application is designed to integrate with accounting and payroll programs. While most of our customers use QuickBooks, we also have many clients who use SAGE, MUNIS, Grant Management Software (GMS), Microsoft Dynamics, Insperity, and various other accounting tools. We also integrate Clockwise with 3rd-party payroll solutions such as QuickBooks Online, DELTEK, Paychex, and ADP. Whether you require time clocks or simply an easier tool to track your employees' time and attendance, we have a solution to fit your needs.

Features
• Online timesheet reporting
• Available in hosted or licensed purchase options
• Password protected and Secure Socket Layer (SSL) supported
• Email notifications and reminders
• Self-Service Options: Online pay stubs and W2's
• Company-wide bulletin board
• Employee Scheduling

Hour Timesheet offers simple DCAA compliant time & attendance software for your small business with 1-click payroll integration to QuickBooks, ADP & Paychex.

Hour Timesheet benefits:

• Eliminate charging errors - authorized charge codes restrict employees to only charge to what you allow
• Accommodate irregular work schedule - optional 8-day timesheet
• Eliminate lost time cards- access to employee & vendor timesheet data 24/7
• Require reason for late or edited timesheet entries
• Eliminate manual entry - 1-click data sync between Hour Timesheet and payroll
• Access to employee leave balances and absence tracking
• Eliminate overtime surprises
• Improve payroll processes - daily email reminders and alerts
• Increase visibility and management insight with the approval workflow process
• Enhanced correction time card process and workflow

Pricing - $3/user per month. No setup fees, no contract and no support fees. Free 30-day trial included
OTHER DCAA COMPLIANT TIMEKEEPING SYSTEMS
QuickBooks Time - formerly TSheets, QuickBooks Time is a DCAA Compliant Timekeeping System that integrates directly with QuickBooks. View QuickBooks Time features and pricing here.

Clockify is an affordable DCAA compliant timekeeping system that integrates with QuickBooks and even offers free accounts to start. To learn more about features and pricing, view Clockify pricing and features now.

SpringAhead™ provides both a timekeeping solution and an expense report solution that are DCAA compliant. SpringAhead™ is very affordable and can be set up through ReliAscent® directly when setting up a client on our DCAA compliant QuickBooks Enterprise system.

Capriccio Fuzion™ is a new web based timekeeping system that meets DCAA requirements. ReliAscent® is a Capriccio Fuzion™ partner.

Call our experts today to see how we can help you become compliant with government and DCAA requirements in your timekeeping system. Our staff is well versed in government timekeeping requirements, in dealing with uncompensated overtime, and installing and maintaining dcaa-compliant timekeeping systems. We have extensive experience with QuickBooks™, Microsoft Dynamics Great Plains™, Deltek™ GCS Premier™ and others.