DCAA Compliant Accounting Systems
What is a DCAA Approved Accounting System?
Small Businesses competing for many contracts from the Department of Defense, NASA, the Department of Homeland Security (and other agencies), must have an accounting system that is compliant with the Federal Acquisition Regulation (FAR), and the Defense Contract Audit Agency (DCAA). The DCAA is the Federal Government's auditor, tasked with reviewing a contractor's compliance with FAR regulations and other requirements (in addition to audits and compliance checks, they provide general guidance to contractors to help them better understand how to work with the government).
When it comes to setting up and maintaining a compliant accounting system, perhaps one of the most important concepts to understand is that term "DCAA approved accounting system" is a bit of a misnomer. There is, in fact, no such thing as a "DCAA approved" cost accounting system, nor does DCAA certify your accounting system. There are simply systems that are compliant with FAR & DCAA requirements, and compliant accounting software that is designed to pass the accounting system audit.
At ReliAscent, our experts not only setup and maintain your compliant accounting system (by providing monthly accounting services); they help position your business for success and profitability through contract management, proposal support, indirect rates management, strategic financial planning, and business management consultation.
To learn more about the components of a compliant system, download our popular white paper: "A Quick Guide to the DCAA Compliant Accounting System - Understanding the SF1408," now.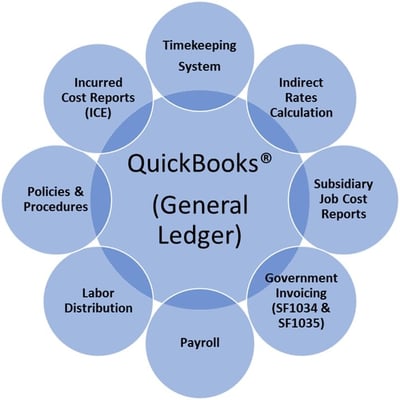 At ReliAscent®, we handle the setup process (installation or conversion), for you. While our experts can help contractors and grantees set up their own compliant accounting system, most clients are migrated to our DCAA compliant QuickBooks® Enterprise system, hosted on our secure cloud.
Start-ups and relatively new/small Contractors and Grantees have a few options:
1) They can choose to use our cloud-based, DCAA compliant QuickBooks system, and outsource the accounting and compliance issues to ReliAscent.
2) If they only have a Ph I SBIR, or a contract or grant through an Agency like the NSF or DoE (that does not require a fully DCAA compliant system), we provide the business with an accounting manual, timekeeping procedure, and a QuickBooks® General Ledger Template, so the business has a system which is compliant with various agency and FAR requirements, and creates the "foundation" for the required system needed in an SBIR Ph II (or cost type contract is awarded), or when a fully DCAA compliant system is required. This system can then be smoothly migrated to our cloud-based, DCAA compliant QuickBooks® system, or our experts can bring the existing system into compliance when needed.
3) If the business has an existing accounting system, we can also properly format the system and general ledger to meet DCAA requirements (ReliAscent® recommends small businesses use the desktop version of QuickBooks®, as it is the most user-friendly and affordable system, and does not lack many critical components required for compliance, like the Online version).
The next step in bringing your accounting system into compliance requires adding a number of components to the general ledger and system as a whole. These components can be found in the Federal Government's Standard Form 1408 (mentioned above), and they comprise the "pillars" or "foundations" of the system. Think of this as a planetary system, in which your QuickBooks® general ledger (the planet), is properly formatted, and then "satellite" systems—from your compliant timekeeping system, to job cost reporting, invoicing methods, rates calculations, policies and procedures, and even how you run payroll—all are interconnected.
Though some systems and software may be more expensive than others, it is important to understand that the cost of setting up and operating a compliant accounting system is recoverable from the government as part of the contractors indirect billing rates.
Just as there are different types and sizes of contractors, each small business has their own unique circumstances. As a result, the setup or conversion process will vary depending on the age of the company, the current accounting system (if there is one), the state of that system, and other factors. ReliAscent will tailor the setup process to your unique situation, ensuring the most affordable and efficient install or conversion.
How Does ReliAscent Setup My Accounting System If...
1) I have not used a "standard," off-the-shelf accounting software previously?
In this case, a small business needs help immediately (but the good news is that you are starting fresh, so the time and costs associated with setting up your system are minimized). The following is a rough order of tasks needed to get a system up and running:
Install a general ledger program (ReliAscent normally recommends QuickBooks®)
Format a company template within the general ledger program to:
Establish a DCAA compliant timekeeping system (either manual or automated)
Establish a payroll system compliant with government requirements
Establish a way to do:

Indirect Rate calculations on a regular basis (normally the government likes monthly)
Provide for Subsidiary Job Cost Reports in a fashion that the government likes to see

Establish a system of policies and procedures
Training to employees
2) I have an existing QuickBooks® system but I don't think it's compliant?
ReliAscent will take a look at your current QuickBooks® system and in a cursory review, identify gaps in DCAA compliance that need to be fixed. These gaps typically fall under the major areas identified in the governments Form 1408. The next step is for ReliAscent to provide a quote to the company on how to fix this. This normally involves a one time up-front expense for the conversion of the QuickBooks® file and then a monthly charge going forward, for ReliAscent to help with compliance issues, invoicing, indirect rate calculations and management, creating subsidiary job cost reports, as well as other accounting functions.
Once the conversion method is selected, work can begin. The main tasks encountered in a conversion include:
Restructuring the Chart of Accounts
Setting up a job cost accounting system
Setting up a labor distribution system
Identifying direct costs to final cost objectives
Identifying and isolating unallowable expenses
Modified, memorized reports
Syncing the general ledger system to the timekeeping system, the payroll system, job cost system, the indirect rates system, etc.
3) I have a different general ledger program but don't think it is compliant?
Sometimes, a small business has a general ledger program already in use when they decide to start accepting work from the Federal Government. This system may be able to be made compliant (ReliAscent® has worked with several other general ledger systems in the past, making them compliant). Several steps should be reviewed prior to proceeding with making the accounting system compliant. This is a partial list of considerations prior to converting the system:
Does the existing system have enough controls to do the basic GAAP and job cost accounting required by the government?
Does the company expect to grow the Federal Government contracting in the future - would it make sense to consider changing to an accounting system that is fully compliant "out of the box"?
What does the company use for timekeeping today? Can this system be compliant? If so, does it electronically integrate with the general ledger software program?
Many times it may be determined (in this evaluation), that it may be easier to simply convert the system to a QuickBooks®-based system, since this is an already proven system, it's easier to convert, and easier to operate in a compliant manner, due to the vast experience the ReliAscent team has with this type of system.
4) I have a QuickBooks® system that may have been compliant in the past?
The first step would be to review the QuickBooks® system in a cursory fashion to see if it meets the general guidelines of SF1408. If not, a conversion can be recommended as described above. If the cursory review looks good, then a more detailed review may be in order to see if the system is compliant. This is normally done in the form of a Mock audit.

Contact us to discuss in detail how this might work for you. Any assistance you request from ReliAscent® will be an allowable (recoverable) cost under your contract.
The ReliAscent® difference is that once the accounting system is brought into compliance, we offer different levels of compliant accounting services to Federal Contractors and Grantees--each tailored to your business and compliance needs--in addition to our government contract management and proposal support services. We have over 200 years of collective experience in Federal Government accounting and provide a "solution", not just a software package that can easily lead the user astray.
We've had many clients come to us after purchasing another system or software, and then not getting the support to operate it properly and maintain compliance. While this approach may work for the rare case in which a company already has an accountant on staff with extensive experience with the DCAA, FAR, and government contract accounting, for most small businesses, this approach often leads to failed audits and headaches down the road. What sets us apart is that we don't simply hand you software and leave you to fend for yourself (and offer overpriced "training" when you can't run the software properly).You do what you do best and we do what we do best and the company benefits as a result.
The specific level and type of services is often dictated by your contracting agency, contract requirements, and budget. To learn more about our government contract accounting services, visit our DCAA Accounting Services page.