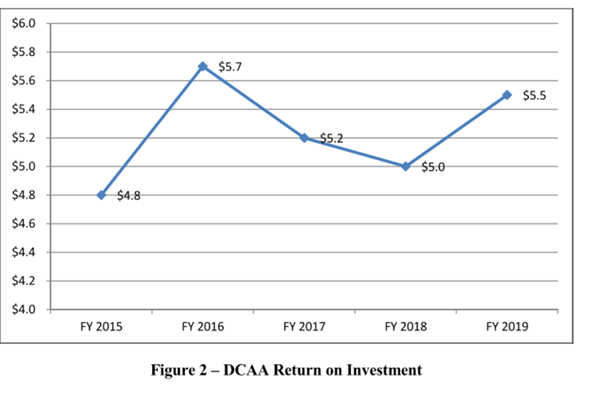 Changes in the Wind at the DCAA
There have been some shifts in policy at the Defense Contract Audit Agency (DCAA) over the last couple of years that are starting to be evident to the outside world. The FY 2018 National Defense Authorization Act (NDAA) required several changes at the DCAA including:
Cleaning up the backlog of Incurred Cost Audits
To contract with Independent Public Accounting (IPA) firms to help perform audits
To complete Incurred Cost Audits within 1 year of receipt of the contractor's submission
According to the most recent DCAA Report to Congress on FY 2019 Activities, these plans are well underway and moving toward completion. Here is a summary of highlights from the Report:
DCAA examined $365 billion in contract costs and returned over $3 billion in savings to the Government
The DCAA "Return on Investment" (ROI) was $5.50. In other words, for every dollar spent in the DCAA, they returned $5.50 in savings to the Government

Eliminated the backlog of Incurred Cost Audits
Completed 99% of all Incurred Cost Audits within 12 months
Contracted with IPA's who completed 101 Incurred Cost Audits (this number is expected to be about the same in FY 2020 and grow after that)
DCAA has renewed focus of audits in other areas besides Incurred Cost including

Renewed focus on Truth in Negotiations Act (TINA) audits - found $88 million in defective pricing in FY 2019. This focus is expected to double the number of hours of audit in FY 2020
Accounting Systems audits

The DCAA is starting to leverage technology to improve the audit process and increase their efficiency
Improved hiring and training processes
Engagement with Industry to understand & address contractor concerns as well as improve audit process
Working with DCMA to develop standards to help reduce the Government's risk in Other Transaction Agreements (OTA)
What is significant here is that the focus on other areas (such as TINA &/or System audits) has already begun now that the DCAA has eliminated the backlog of Incurred Cost Audits. With the use of more efficient software and other audit tools, the DCAA will be able to review more contract dollars. Some new software tools allow the auditor to inspect 100% of costs rather than just take a random sample. With improved efficiency and more help from IPA's, the number of contract dollars reviewed is bound to increase. This means more contractors will be exposed to audits.
It is important to recognize when and where Certified Cost and Pricing Data is required which would trigger a TINA audit. If the contract value is under $2 million, Certified Cost and Pricing Data won't be required. If there is significant competition, TINA won't be required. There are also a couple other exceptions but the message here is that the Government is interested in focusing on the pricing of goods and services to ensure they are not overpaying. This should put an increased emphasis on contractors accounting and business systems to ensure that they are developing good pricing and that they are basing these prices on the best data available to them at the time. This data should be retained as a "Basis of Estimate" or BOE file to support future audit. It also means, the contractor should share the information with the government per TINA, when requested, so that fair and reasonable pricing can be established. Not sharing this requested information can lead to more serious consequences for the contractor.
A big takeaway here is that there will be more scrutiny on contractors from the DCAA than there has been over the last 5 years or so, during which time the DCAA was almost entirely focused on eliminating the backlog of incurred cost audits. Prior to the focus on the incurred cost audit backlog, the DCAA had years of ROI of over $7 (FY 08 & FY 13).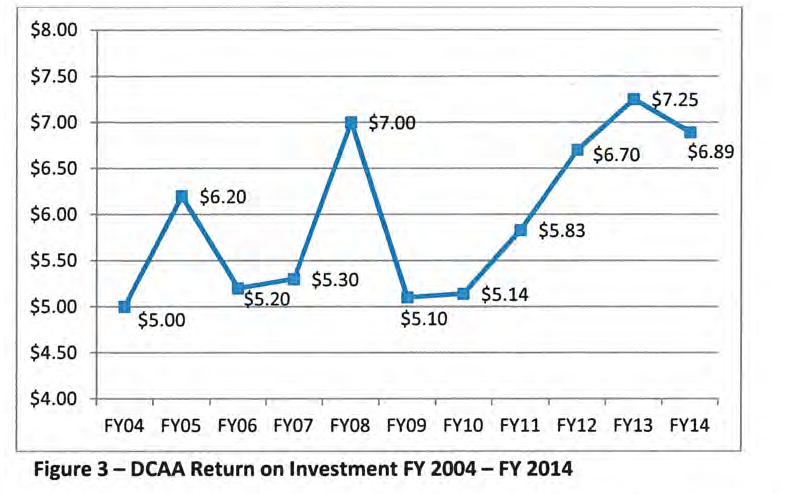 I don't know if there is a statistical relationship in their ROI and their focus on all areas of audit but my guess is that the DCAA's ROI will increase over the next few years. This will mean contractors will want to make sure their systems are not only compliant but that they follow the best practices and procedures to ensure compliance with FAR and DCAA requirements. This means from pricing all the way to time tracking to billing to contract close out (and all systems in between). If you think you might need help with that, give me a call.