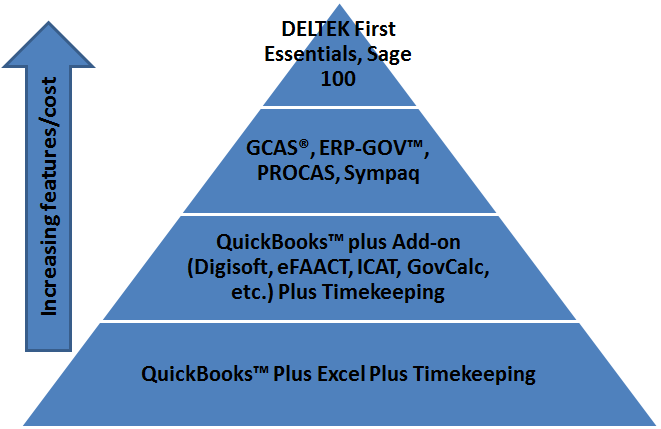 DCAA Accounting Software for Government Contract Accounting
Government Contract Accounting - Software
Many small businesses are overwhelmed when they begin their first government contract. The ability to pass a DCAA audit for an accounting system is daunting. Many government contractors mistakenly believe that if they purchase a dcaa accounting software package that is designed to meet DCAA requirements that they are safe. Nothing is further from the truth. It is a first step to get accounting software that is designed to meet FAR and DCAA requirements but the system set up around that software, the consistent operation of that system and the retention of supportable records is also required to pass a DCAA audit. The government wants to see a full system and the compliant operation of the system to assure that they are not overcharged for the goods and services that they purchase. In addition, since they are the single largest purchasing entity in the United States, they also want to see that they get the "best deal". These seemingly simple goals have resulted in some complex regulations for Contracting Officers and also for government contractors. Today I would like to take just a brief look at the software packages that would be available to a government contractor, especially the small business, to form the backbone of their compliant business system for doing business with the Federal Government.
The accounting software package forms the backbone of a government contract accounting system. The software will, at a minimum, provide for a general ledger system for recording financial transactions. This is a key element of a government approved accounting system capable of handling a cost type contract. As for the software packages, I look at two general types of packages available for this:
Accounting programs that are designed to meet FAR & DCAA requirements out of the box
Accounting programs that are not designed to meet FAR & DCAA requirements.
Both of these types of systems could be used to have a compliant system. The programs not designed to meet FAR and DCAA requirements will require some supplemental external manipulation to make them compliant. In addition, any accounting system will require a compliant timekeeping system. Some of the DCAA designed programs have timekeeping modules contained in the program that are compliant. Programs not designed for FAR & DCAA may also have internal timekeeping modules but they are not compliant and external timekeeping needs to be set up.
The hierarchy of accounting systems for government contractors is what I often think of as a pyramid type structure. As you go up the pyramid, you have more of the DCAA & FAR requirements met in the software but you also have a higher cost. As a result, there are fewer software packages at the top of the pyramid.
In this diagram I have used QuickBooks as a general ledger program but this could really be almost any general ledger program that could be set up in a job cost structure such as Peachtree, Great Plains, etc. The point is these accounting systems are not designed to meet all of the government requirements so they need external systems to help them comply. Small business needs to look at this and evaluate their tolerance for features vs. expense. Certainly, the systems at the bottom of the pyramid can be fully functional and pass audits but they may be a little more difficult to operate and maintain properly. Even the systems at the top of the pyramid can be difficult to operate properly and are by no means a guarantee of passing an audit. This is where a company like ReliAscent can be a valuable partner for the government contractor. ReliAscent has the expertise and the knowledge to operate almost any of these systems and maintain compliance.
Update 5/20/16
ReliAscent has a released a number of important resources on government contract accounting / DCAA accounting software, and we also partner with software companies that provide DCAA Compliant Accounting Systems "out-of-the-box," including JAMIS®, Pleasant Valley Business Solutions™ (PVBS), and Procas™. The list below contains links to some of these resources:
1) DCAA Compliant Software Review (YouTube Video)
2) A Quick Guide to the DCAA Compliant Accounting System (White Paper)
If you would like to learn more about which accounting software makes the most sense for your business (given your needs and budget), please visit our page, Which Software is Right for My Business, or click the button below: