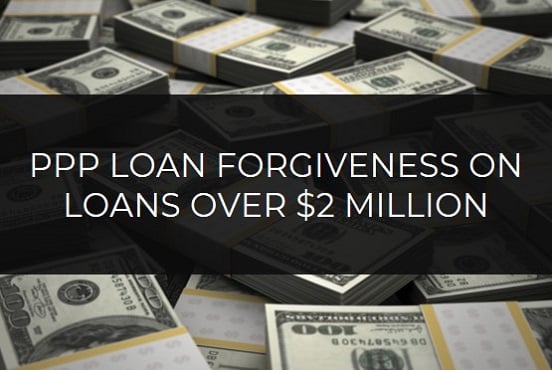 Applying for PPP Loan Forgiveness on Loans Over $2 Million
Many companies applied for PPP Loans last year, and many of those companies were government contractors. For loans under $150,000, the forgiveness application is pretty basic. In most cases, you don't need to submit the documentation with the forgiveness application. It is recommended to save the documentation in a safe place for up to 6 years in case the government ever decides to come back and request it.
However, for loans over the $2 Million threshold, the forgiveness application is VASTLY different. Companies need to provide ALL DOCUMENTATION with the application. Also, the application itself is much larger and goes into detail on topics like:
Why did your company need the loan?
What was your revenue between 2019 and 2020, and did you show a loss in 2020 versus 2019? That could be an indication that you needed the loan.
Did processes/operations change, get shut down, etc., because of COVID?

Were these processes voluntary or State or Federal Government-enforced?

What were your payroll and company expenses?

It is recommended to list ALL your expenses (phone, internet, rent or mortgage, state taxes not related to payroll, insurance, 401k, etc.), even if you go well over the loan amount. You never know what could be allowed or not allowed later. The more detail you can provide with your payroll reports, like salaries, last 4 of SSNs, etc. just to tie to the reports, will be helpful.
Bottom Line: provide as much detail as you can and talk with the bank that provided your loan to get their input on answering questions. As a reminder, the "covered period" for loan forgiveness was extended to 24 weeks. This gives borrowers more flexibility in covering costs requested for forgiveness.
What about Government Contractors?
For small businesses having cost-plus type contracts or grants, government cost principles may diminish the benefit of loan forgiveness. Evaluation of this effect is required on a case-by-case basis. ReliAscent® has assisted clients with strategies for mitigating this impact and can still do so for those ready to apply for PPP loan forgiveness. Contact us today if your business needs help.