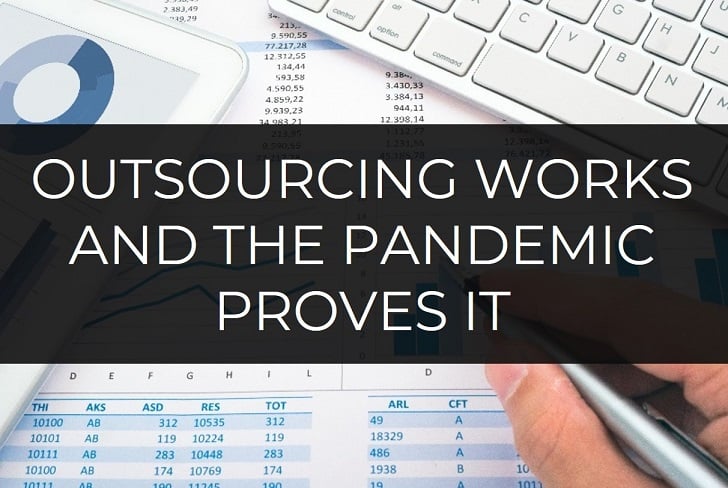 Outsourcing Works and the Pandemic Proves It
Both small and large companies across the country are learning that outsourcing certain tasks makes a lot of sense these days. With COVID came the realization that entire segments of our economy and many businesses could function on a remote basis. No longer are costly facilities and utility bills a requirement—nor is wasting several hours a day commuting to and from the office or having everyone or every task contained within the office. Across industries, and indeed, even in our own personal lives, companies and people are finding creative ways to not only cut costs, but to enhance their offerings and/or products, and focus on what matters most.
In the past, many companies avoided outsourced accounting for one reason or another. Whether it was fear of not having your accountant "right down the hall" or that your accounting data was not protected or could not be properly understood by people outside your organization. With the advent of secure cloud computing, some of these fears were reduced and there has been a general trend in the accounting industry toward using cloud computing and storage with more security and confidence. However, the recent COVID-19 pandemic has shown us all how easy, convenient, and important remote operations can be, and with it, ReliAscent® has seen a dramatic rise in small businesses looking to outsource wherever possible.
There are numerous reasons why outsourcing these functions can benefit your business, but let's cover the most common we run into in the government contracting world:
FAR & DCAA Compliance is Complex: this involves not only compliance with Federal Acquisition Regulations (FAR), and Code of Federal Regulations (CFR), but also many agency-specific regulations (such as DFARS, DEAR, etc.), and understanding the DCAA's contract audit manual, audit types, and processes. This is vastly different from commercial bookkeeping or accounting, and all companies in this industry struggle with accounting and contract compliance without experts supporting them. Every week I hear from companies that were simply trying to "fly under the radar" or "teach themselves as they go," until they failed an audit or the DCAA rejected an invoice. That is no way to run a business and is a strategy that inevitably fails.


You Need to Focus on Direct Work NOT Low ROI Activities: small business owners—especially in this industry—often find themselves spinning their wheels and wasting time on low ROI activities. I frequently hear from CEO's or COO's that are doing the accounting themselves: they don't understand cash vs accrual accounting, how to calculate their rates, capture labor in the accounting system, or burden the different cost pools, and they can spend hours each week trying to understand where they are in contract (and where they need to be). These tasks can be completed correctly (and in a fraction of the time) by experts like ReliAscent®, allowing senior management and other personnel to focus on their direct work, or further develop their services, technology, or products.


You Can Save Money While Maintaining Full DCAA Compliance: many companies are at first concerned when they hear that the hourly rates an outsourced government contract accountant charges are higher than that of an internal accountant. However, you must consider that a full time, in-house accountant draws a salary, receives other benefits, uses equipment, materials, and can spend an enormous amount of time needing to research contract and grant terms, conditions, and FAR clauses, or cleaning up mistakes (and hopefully not making more in the process). In many cases, small businesses can outsource their entire accounting department—from bookkeeping to accounting, payroll, AR/AP, WAWF invoicing, and more—for as little as $1,500 - $3,000/month. Or, if they already have an existing accounting staff, our experts can train them to handle the day-to-day bookkeeping while we take care of the monthly close, required financial reporting, ICE submissions, and DCAA audit support the company needs to stay compliant.


You Have an Entire Accounting Department When You Outsource: most small business government contractors and grantees can only afford to pay for a single, full-time accountant. If that is the path they choose, they miss out on the benefits that having an entire accounting department can bring a small business. With ReliAscent®, your business can have a Bookkeeper, Senior Accountant, Controller, and Account Executive handling all aspects of your accounting. Everything you need, from data entry to generating reports, analyzing and making sense of your financial data, and providing financial and compliance guidance, even contract and grant management services, is available, all at less than the cost of a single, full-time accountant.
The pandemic has taken a devastating toll on our economy, businesses, and lives. But, with it came a monumental shift in how we look at work and what deserves the most focus in work and in life. To learn more about how outsourced accounting and contract compliance can help you focus on what's most important to your business, contact us today.