We are happy to announce that ReliAscent CEO, Mike Anderson, will be presenting at the UC San Diego Office of Innovation and Commercialization's SBIR Road Tour California, on September 11th. Mike will be presenting "Accounting Systems needed for the SBIR/STTR Program" at 2:00 PM.
The SBIR Road Tour is a national outreach effort to convey the non-dilutive technology funding opportunity provided through the Small Business Innovation Research (SBIR) and Small Business Technology Transfer (STTR) programs. Federal and California State Program Managers representing $2.5 billion in early stage funding will be in attendance, and available to meet with prospective companies to evaluate ideas and explain how to work with the various agencies (make sure to register and schedule your one-on-one meetings before the cut-off date on 9/1).
This event is an important opportunity for those involved in the advanced technology communities, including women-owned and minority-owned firms. If you're an innovator, entrepreneur, researcher or small technology firm located in California, we urge you to take advantage of this opportunity to talk directly with federal agency program managers, and meet one-on-one with program decision makers, and industry experts like our own Mike Anderson.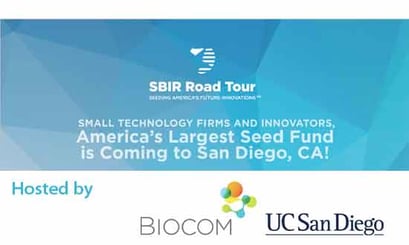 To Register for the California SBIR Road Tour, Click Here Now!
We hope to see you there, and as always; if you ever have questions about government contract management or accounting compliance, please do not hesitate to contact ReliAscent!