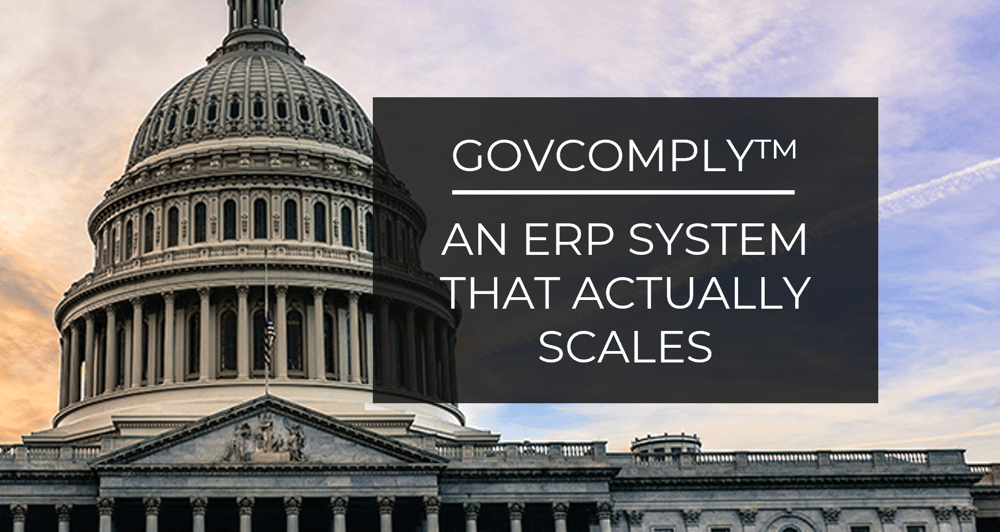 GovComply™ - An ERP System That Actually Scales
Being a government contractor can sometimes feel like you are a prospector in the gold rush. It can be boom or bust on what seems like a daily basis. In today's subscription based software world, you can find parts of a solution that "boom or bust" with your company as you expand and contract, or you can purchase a bigger system that meets many of your needs. As a business owner or manager, you are faced with many choices on how to get the job done. You may be asking yourself some important questions when it comes to running your government contracting business…
"How do I make sure we are DCAA compliant without spending too much money?"
"How do we handle this big contract if our proposal is awarded?"
"How do I know if a system we implement will actually add value?"
"Is there something that goes beyond DCAA compliance to help run our business?"
The big, well know systems for managing a government contracting business (like Deltek™) do not have an option for "starting small", or the definition of "starting small" from the software vendor isn't actually small. Your other option is to find more affordable solutions that are less expensive and meet a particular need. Many of these options, while serving a particular purpose, lack the additional capability to meet additional needs of your growing company. Options like SpringAhead™ or TSheets™ can really only help you with timekeeping and options like eFaact do little to give you insights into management of your projects. You may have also been told that you need a government contracting specific accounting system, which makes possible solutions even more expensive. Using GovComply™, you can take advantage of the affordability and capability of QuickBooks™, and ReliAscent's DCAA Compliant Enterprise platform, while still keeping your costs low. There is no need to get locked into a niche accounting system.
GovComply™ offers both an affordable starting point AND has additional capabilities that scale with your company.
When thinking about software "scaling" with your company, the first thought is usually "how many users it can handle or how much does the bill go up and down?" While this is an important part of software scaling, there is much more to consider besides how many users a system can handle or how big or little the bill gets. When considering a scalable solution, it is important to include capabilities in your definition. A system should be able to meet your current needs and without the requirement to move to a new system as those needs grow.
GovComply™ allows you to start in a low cost environment, meeting basic DCAA compliance needs, and adds capability without the need to transition into a new system.
So, what are the costs of implementing a system and what should you consider about switching to a new system? Obviously, there are dollars involved with purchasing or subscribing to a new system. Setup fees, initial training and maybe even consulting, can all be costs associated with a new system. The other costs involve your time, and the time of your people. It takes time to learn a new system and get used to its interface. There is also the opportunity cost of committing to a yearlong contract. If things don't go as planned, you may be stuck with a system where the opportunity to use those dollars and that time could be better utilized to get back on track. So, how do you find a good balance of keeping your initial commitment (both time and money) low, while also keeping your ability to expand without another set of big costs?
GovComply™ has multiple packages that can be seamlessly upgraded (or downgraded) without the cost of switching to a new system.
If you "start small" with the GovComply™ platform, there are multiple ways this can save you time and money in the long run. Not only are the setup fees small to begin with, you will save money on setup fees or not have to pay them at all if you decide to expand your system. You will save training time on the upgraded capabilities because your employees are already familiar with how the system works. Most employees will just need to continue using the system as they normally do while another set of employees learns to take advantage of the integrated, real time data to better manage multiple projects.
When faced with the choice of finding low cost solutions that only meet a single need or committing to a bigger system with the associated bigger costs, realize there is a better way. Start with a low cost system that meets those basic needs but gives you the ability to seamlessly grow. With 4 distinct packages, GovComply™ has the capability to meet your company where you are at.
So what does this all look like?
EXAMPLE: A Government Contractor with 6 employees, 2 subcontracts, and having just won their first contract as a prime...
The immediate need is a DCAA compliant timekeeping system, but it is manageable to create invoices and track projects using spreadsheets. The company can start with GovComply's fully DCAA compliant Copper timekeeping package that has a low setup cost of $100 and an affordable price of $7 per user per month ($42/month). The contractor not only gets a compliant timekeeping system that will pass their first audit, they get automatic labor distribution, time off tracking and the ability to keep detailed notes on their work as well as a dashboard of alerts and floor checks.
Government Contractor wins more contracts
As the company wins more contracts and revenue increases, monthly invoices, project reporting and tracking indirect rates can take away focus from performing on their projects. The contractor can upgrade to the Silver package ($21/ employee/month), to automate the task of invoicing, add up-to-the-minute project labor tracking, more reporting, and easily calculate their indirect rates monthly. They are certainly saving more time, improving their accuracy and gaining more project visibility for the additional $84/month. By having a platform that scales, they can stay focused on their projects and not worry about finding a new system that supports their growing needs.
Government Contractor wins more contracts and increases in size
By now, the company has a successful track record of winning contracts and has added employees to support those contracts. There is definitely a need to have DCAA compliant expense tracking (purchasing and travel), management of sub-contractors (or consultants), and project management needs to go beyond a monthly report from the accounting system. By upgrading from GovComply™ Silver to GovComply™ Gold or GovComply™ Platinum all these needs are met (and more). Most employees only need to learn to use the expense process, which is easy because they already are familiar with the timekeeping system. Project managers can be trained to use features like Earned Value Project Management, or Property Management (if applicable) or even take advantage of some of the light manufacturing capability of GovComply™.
This story of a government contractor doesn't include having to dial back, but if they did have to slow down or even contract, all they need to do to reduce their costs is downgrade to a lower package. All that data and capability is still there waiting for when things pick up again.
When it comes to DCAA compliance, don't settle for piece meal solutions or big up front commitments.
You have many choices when considering your DCAA compliance and you want as much of your resources going towards performing on projects as possible. Don't pay (or over pay), a big upfront investment on a system that may or may not work for your company and leaves you committed if things do not go as planned. Don't waste time learning a system that can't expand and grow as your company grows and costs you more time and money in the long run. Choose a system that keeps your resources free as you grow AND actually scales with you.